Grappt looks neither through your address book, nor your mail contacts, like so many other messengers
How to legally add contacts in your address book:
By manual entry in the address book
If you have been notified of the alias of a person who has been registrated with Grappt, you can store this username and notes about it in your address book - communication is at once possible, and you can expect to be able to send (or receive) request of rights in MyGrappt/Contact Overview. Your alias - as is the QR-Code - are able to be scanned by others in your messages.
​As soon as you have been added to a conversation by an administrator or moderator, you can see all messages and attachments to this conversation. Participants in the conversation are also visible with their "Alias" in the "conversational details" and can then be added by you in your address book (which are then automatically entered into the Contact Overview in MyGrappt.)! Simply click on the black address book-icon!
As soon as his icon turns green, you can communicate in Messenger (with the administrator! ...not with the deceased:) or send questions to genealogical concerns. (e.g. supplement or changing of the deceased person's data details).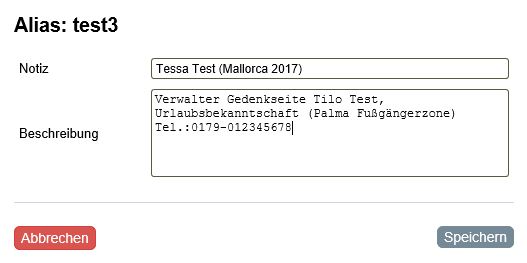 If you already know the true identity of the person behind the alias, you can make a notice in the address book entries via the "pop-up window," which makes it easier for you when calling up contacts - and as a reminder to you when entering a description of the person. You can communicate with people in Messenger who exist in the address book, or in your Contact Overview, protected by the highest log-in level, to release your contact data as a "request of rights," or receive the "right" from the person to view their contact details. Rights requests can be accepted, adjourned or rejected, depending on whether you want it or not.....​