Enter deceased persons
More than just a name and date of death!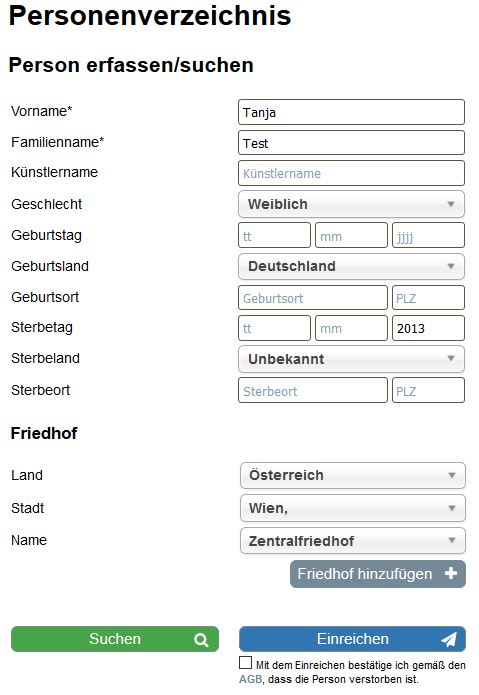 Give in the data which are certain to you of the deceased person in the genealogy area of the green field in the Personal Directory. (Personally known information or gravestone inscriptions). Please do not submit data which is not absolutely sure or correct.
then please click on "Search."
Check in "Search Results", whether the person has been already entered into the Grappt Company as deceased. Personal details will reveal to you much more explicitly, whether the deceased exists already in the databank.
If the deceased person is not yet known to Grappt, then you can save their original data in our datebank via "Submit"..
As first Entry-Maker, you will be the Maintainer to this person and can complete the personal details and will also be asked, if other users of the Grappt Data would like to supplement data about the person.
You can set up at anytime a Memorial Page for your deceased person; and will also be asked before another user may set up a Memorial Page for the deceased.
Insert GPS-photos
After uploading a GPS-photo the geo-coordinates are extracted automatically and position is marked upon a map.
Make sure that your gps tracker is activated on your cell phone or camera, to get exact coordinates of the grave or memorial.
If you add photos without GPS-signature, you can complete the geo-coordinates in "Administration" per hand as longitude and latitude.