Create a memorial page quick guide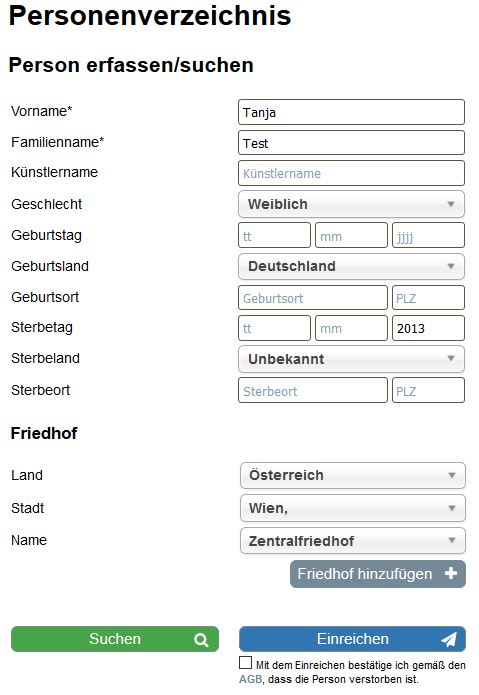 (To protect your data: Requirement: Security area Code Blue)
As Grappt is a network with several internal links,
please use these guides to create your basic applications. You will be guided step by step.

Generally all
pictures, textlinks und icons
lead to the described page by "Click". (Navigation bar arrow

, takes you back to the guide to start fillilng in the next page).
"More than just a name and date of death!"
Enter the exact, known data of a deceased person in the genealogy area of the Green Field in the "Person's Directory" . (Personal known information or gravestone inscriptions).
Then please click on "Search".
Check in "Search results" whether the person has already been submitted to Grappt or a Memorial page has been created for this person.
If the deceased person is not yet known to Grappt, then you can save their base data through "Submit".
As first entry-maker, you will be the Maintainer of the person and able to supplement the personal details of this person. You will even be asked if another user of Grappt would like to add details to this person.
You can at anytime set up a Memorial Page for the deceased person; and will be also asked before another user is able to create a Memorial page for the deceased.
When you want to create a Memorial Page

Call up the Person in the "Person's Directory" . "Memorial Page creation" is shown for persons, who do not have a Memorial page yet, as a choice button. (Others have the button "Show Memorial Page"). You will be further directed onto the page "Memorial Page Booking" and can then perform the booking. If you yourself are the Maintainer of the person, you can directly book and fill out the Memorial Page.
If another user should be the maintainer of the deceased Person, it will be asked whether he himself wants to create the Memorial Page. If the original Maintainer does not want to create a Page, you automatically become the new trustee and your Memorial Page booking will be realised at the shown tariff.

Insert photos or documents into the Memorial Page. A condolence book is installed, the GPS-coordinates of a grave's photo will be displayed automatically and a gallery for photographs and links concerning the deceased can be realised.
The Memorial Page displays a QR-Code, to be used as a download for obituaries or any other printed matter with immediate effect.
For entitled users, gravestones - or memorial QR Code Plates can be created, which list the people there and tell their story. (Family gravestones, war memorials, cemetries..).