Book Memorial Pages as additional Feature:
Managed in "
Code Blue
" and accessable continually by QR-Codes
Take the chance, to keep your important persons in memory
As an extension of
Code Blue
basic registration, you can book as many memorial pages as you like, securing a lasting memory for all the deceased you care about.
If a deceased person cannot yet be found in the Grappt deceased database, you can enter the person's data there. As the first person to enter the data, you will receive the right to take care of the deceased as the "maintainer". As soon as you have entered the master data, you can directly book a memorial page for the deceased.
In addition to the grave image and the personal data, a memorial page can be customized with a condolence book, a picture gallery, an obituary, file attachments and external links according to your personal preferences.
Use the memorial pages QR code to gain time and peace of mind
In the event of death, everything usually has to happen very quickly. There is little time for the survivors to do justice to the memory of the deceased and to arrange everything as he would have wanted.
The memorial page QR code is available immediately after booking and can be shared in print or as a file (print media, mail, social networks, etc.). With content and details, the page can be filled in peacefully, little by little.
Manage a memorial page as a "maintainer" always up to date
In the memorial page management of
Code Blue
you can always post current pictures, dates and other information for family, friends or acquaintances of the deceased.
Become a "maintainer" of the memorial page for a person who is particularly important to you
If you find in the Grappt deceased database a person, or historical personality, who is particularly important to you and you would like to set up a memorial page for them, you can send a request to the current "maintainer".
If the previous "maintainer" is not interested in booking a memorial page himself, the maintainership will be transferred to you and your booking request will be confirmed.
Design your own memorial page with your life stages during your lifetime
Deposit their life stages in Code Blue to get an overview for your own memorial page.
You have the possibility to book and design your personal memorial page already during your lifetime. The pages you fill will of course only be released after your death and cannot be viewed by unauthorized persons beforehand.
You yourself know your wishes best and thus help your survivors in your own way.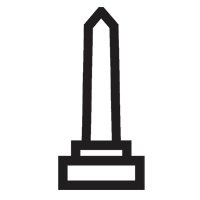 Book Monuments as additional Feature:
Buy a QR code plaque for your memorials
Create a QR code for your family grave, a cemetery, a war memorial or a monument. Enter the story about the monument and give visitors to the monument the opportunity to sign a memorial book. You can find high quality QR code plaques here in our shop.
To Shop
If you have assigned the relevant persons from the deceased database in the administration of your memorial page in
Code Blue
, you decide how long you want to book the memorial. By scanning the QR code, all the persons entered can then be called up and the history of the memorial is displayed.
Examples of monument pages can be found here for Burgheim War Memorial (1914-18) and Burgheim War Memorial (1939-45).
Example 1
Example 2